Sheri B. Bronstein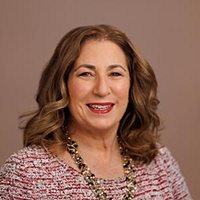 Sheri B. Bronstein
Chief Human Resources Officer, Bank of America Corporation
Sheri B. Bronstein is the chief human resources officer (CHRO) for Bank of America and a member of the company's Executive Management Team. In this role, she leads a global team of human resources and enterprise services professionals who drive the company's commitment to be a Great Place to Work.
Sheri serves on the Executive Committee of the company's Responsible Growth Committee and supports the Compensation and Human Capital Committee of the Board of Directors in her role leading the company's approach to being a Great Place to Work.
A thirty-year industry veteran, Bronstein joined Bank of America in 2000 and has held various roles supporting Global Markets, Global Investment Banking and the international regions prior to being named CHRO in 2015. In her tenure as CHRO, she has focused her team on driving innovative and differentiated ways to deliver on the commitment of being a Great Place to Work. This includes a focus on recognizing and rewarding performance, providing development opportunities, ensuring a diverse and inclusive workplace and supporting employees' physical, emotional and financial wellness.
Sheri is passionate about employing data and analytics to identify emerging trends and to drive meaningful HR and business advancements. She led the effort to publish Bank of America's annual Human Capital Management Report, setting an industry standard by providing a transparent, comprehensive view of the company's workforce metrics across gender and ethnic diversity, compensation, learning and development.
She is a thought leader on the importance of mental health priorities and drives the company's industry-leading focus on employee emotional wellness. This extends outside the company with her work in co-leading the Mental Health Forum to discuss challenges facing youth and best practices to support them as they transition into the workforce.
Sheri is deeply committed to promoting diversity and inclusion inside and outside the workplace. She serves on the Advisory Council of the Smithsonian American Women's History Museum, Council on Inclusion and Diversity Advisory Board of the HR Policy Association and is a member of the DE&I Advisory Council for OneTen. Sheri is the Executive Sponsor for the company's Domestic Violence Task Force. As a champion of learning and development, Bronstein also serves as Vice Chair of the Board of Trustees of Liberty Science Center and serves on its Executive Committee and is a member of the Board of Visitors for her alma mater, Colby College.
Sheri holds a bachelor's degree from Colby College and a Master of Business Administration from Cornell University.