Alexandria Trujillo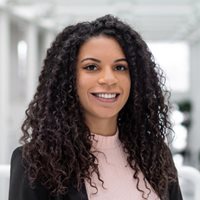 Alexandria Trujillo
Strategic Analyst to the CEO, HR Policy Association
Alexandria "Alex" Trujillo is the Strategic Analyst to the CEO at HR Policy Association, working on special projects, research, and strategic innovation in the Office of the CEO.
Alex earned her PhD in Pharmacology and Toxicology from the University at Buffalo in 2019, and while in Buffalo co-founded a science policy nonprofit with a mission to increase scientific literacy and advocate for evidenced-based policy. After graduating, she joined New York State Government as an Empire Fellow working on transportation and economic policy, communications, and COVID-19 response through 2021. Prior to joining HR Policy Association, Alex led special projects and operations functions as Special Assistant to the CEO at KABOOM!, a DC based nonprofit that uses data and advocacy to ensure that all children have equitable access to a safe place to play.
Alex's intellectual curiosity has led her to a successful career in diverse fields. Outside of work, she can be found tending her indoor plants, or out in nature rockhounding and refining her amateur geology hobby.