Rep. Stephanie Bice (R-OK)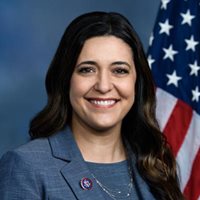 Rep. Stephanie Bice (R-OK)
U.S. House, of Representatives
Congresswoman Stephanie Bice is a fourth generation Oklahoman. She graduated from Oklahoma State University in 1995 with a degree in Marketing and a minor in International Business.
Before serving in the House of Representatives, Congresswoman Bice served in the Oklahoma State Senate for six years. During her tenure, she was Assistant Majority Floor Leader and Chair of the Senate Finance Committee.
Before her public service, Bice worked in the private sector for eight years in financial oversight, business strategy and marketing for her family's technology company. In addition, she ran her own marketing company, and later helped lead a boutique digital marketing agency as vice president of business development.
In the 117th Congress, Bice was elected by her peers to serve as Freshman Class President and serves as a member of the Republican Whip Team. She served on the House Armed Services Committee and the House Committee on Science, Space, and Technology.
She currently serves as the Sophomore Class Representative to the Elected Leadership Committee for the 118th Congress. She serves on the House Appropriations Committee, the Committee on House Administration, the House Committee on Science, Space and Technology, and the House Budget Committee.
Stephanie and her husband Geoffrey have two daughters.