CHROs discussed how organizations can creatively re-think the work performed by deskless workers to create an environment that allows for increased employee autonomy by empowering leaders to focus on their people.
In a breakout session led by Jacqueline Williams-Roll, , the group highlighted data from the Looking Forward with Gen Z study that indicated 8 out of the top 10 values for work life are related to emotional wellbeing. Feeling valued, meaningful work, and harmony between work and home life were critically important to this generation of workers. The session explored tangible ways to improve the deskless worker experience through empowerment, listening to your people and developing empathetic leaders as well as the challenges that come when remote work is not an option or collective bargaining agreements restrict an employer's ability to create flexible work schedules and structures.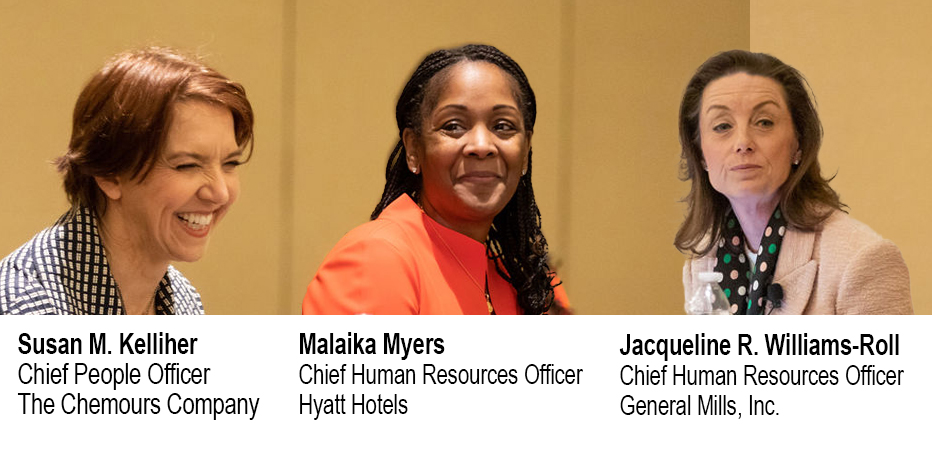 Empowerment as strategy: Ms. Williams-Roll shared how General Mills' employee-centered approach to operating manufacturing facilities has led to higher engagement, reduced turnover and tripled the number of job applicants. "We provide the framework and trust managers to make the best decisions for their teams. Every location and circumstance is different, so we partner with local leadership to meet their needs." Every shift begins with a direction-setting meeting where the team lead and team members determine assignments, breaks, and shift "swaps" that employees work out on their own when they need time off. It also includes manager development, nudges and accountability.
Listening and employee choice: Ms. Kelliher remarked, "The three most important things are the same for all employees. Fair pay and benefits, the opportunity to grow and being seen and respected." She described the importance of taking the time to regularly hear feedback about the benefit programs offered. Focus groups, ERGs, and personal connections with employees has led the company to offer a larger suite of tailored benefits. Increased flexibility has also led to reduced turnover and an increase to the representation of women in their plants.
Leadership focus: Ms. Myers discussed Hyatt's journey to become a more agile organization and "think differently about how the work gets done." To do so, "it all comes down to the manager and how they develop competencies to be successful." Hyatt has renewed its focus on refreshing simplified expectations for leadership that will allow managers to have more decision-making leeway and the ability to try new solutions within their teams, review processes, help employees "clear their plates" to focus on what matters most, and lean into technology. Leaders are experimenting with shorter shifts, four-day work weeks, and one day of remote work per month, which has led to a 30% increase in employees feeling more rested.
Union challenges: The panelists recognized the limitations that collective bargaining agreements have on an employer's ability to do things differently unilaterally, even if the change is to address a need that the employees are seeking. Sharing data, such as employee survey results, with the local unions can be an effective way to help build support for incremental change.
Ms. Williams-Roll noted today's leaders "need a higher dose of empathy," and each CHRO reflected on the importance of leadership development programs and manager engagement and accountability tools to assess effectiveness.