Concurrent 4: Managing the International Workplace – A Global Perspective on Defining Culture, Workforce, and Productivity
Member company representatives focused on the future of global work shared their perspectives on how CHROs in the U.S. can support a global workforce and manage across cultures, while also discussing what international agencies have been doing to elevate workers' productivity around the world.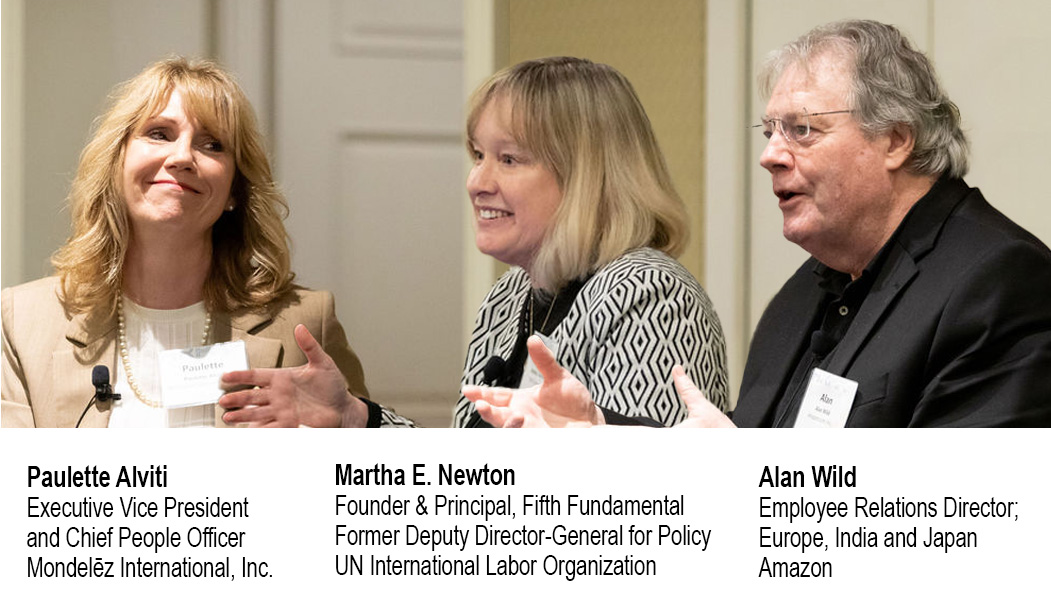 Mr. Wild started the session with a question, "Is your company a multinational company, global company, or 'colonial' company?" He then used Erin Meyer's study "Getting to Si, Ja, Oui, Hai, and Da - How to negotiate across cultures" to explain how to understand and manage different cultures across the world. On that point, Mrs. Alviti shared her guiding principle on managing a globally diverse workforce is "local first but not only." She noted that companies can have global principles but need to provide local autonomy and avoid trying to apply the same rule across the globe.
On the topic of productivity, Mr. Wild used three examples – the U.S., Germany, and China – to demonstrate how efficiency can look very different depending on where you are. More importantly, to be able to find the model that works for your local workforce is a constant learning process for HR leaders. Ms. Newton mentioned that AI and technology will play an increasingly important role in promoting workers' productivity, but she expects more regulation in this field in the next few years. Additionally, new regulations currently under consideration could hinder employers' agility, especially in Europe. Ms. Alviti shared that it is important to educate the team to embrace and keep up with local legislative changes and ensure compliance.
Ms. Alviti shared the challenges of finding good talent and moving them to locations where needed. She emphasized that, unlike before COVID, talent is less willing to move even with promotion and accommodation. Companies should identify talent at early stages when they have more flexibility and build a more diverse talent pipeline. Ms. Alviti used Mondelez's initiative "General Manager Academy" as an example, where young leaders across the globe go through training and connecting sessions, helping their willingness to grow and move with the company.
The panel noted that the shift of the workforce has fundamentally changed the CHRO's role when you look at where your key talent, employees, and suppliers are. As COVID brought massive changes to where and how and when people work, the accelerated and widespread use of social media also shifted the way employes express grievances in the workplace. All the changes require leaders to be able to communicate honestly and transparently to the whole organization. Global leaders should build the ability to create an inclusive workplace across multiple cultures and help their employees have a sense of belonging.