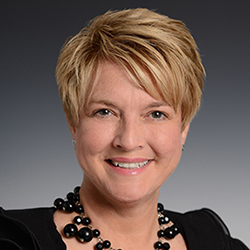 Johnni Beckel
Senior Vice President and Chief Administrative Officer, OhioHealth

Johnni Beckel was named senior vice president and chief administrative officer for OhioHealth in September 2020. In this role, she provides executive leadership in the areas of Human Resources, Sustainability, Information Systems, Marketing and Communications, Mission and Ministry, Security and Protective Services.

She is accountable for all core people processes including the evolution of our "world class" culture that has become a key differentiator for OhioHealth with over 35,000 associates, physicians and volunteers. Her role ultimately strengthens OhioHealth's ability to deliver the best quality of care to our patients and the community through the strong engagement of our physicians and associates.

Prior to joining OhioHealth, she held key positions leading global human resource, talent management, and organizational development efforts in the hospitality, retail, entertainment, restaurant, financial services, and health care industries. Ms. Beckel completed her undergraduate degree at Pennsylvania State University and her graduate degree at the University of Central Florida. She is Six Sigma Black Belt certified, and serves on the Boards of Directors for the Health Transformation Alliance (HTA) and the board of White Castle, and is Board Chair of Goodwill Columbus.
LinkedIn