Andrea R. Lucas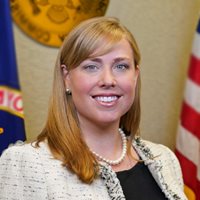 Andrea R. Lucas
Commissioner, U.S. Equal Employment Opportunity Commission

Andrea R. Lucas was confirmed by the U.S. Senate to be a Commissioner on the U.S. Equal Employment Opportunity Commission (EEOC) in 2020. Her term expires in July 2025.

As part of her work educating employers, employees, and other stakeholders about the laws the EEOC enforces, Commissioner Lucas writes and speaks frequently about hot topics and emerging issues in employment law and civil rights, including corporate diversity programs; religious discrimination, accommodation, and inclusion; accommodations for pregnancy, childbirth, and related medical conditions; and disability accommodation.

Before her appointment to the EEOC, Commissioner Lucas was a member of the labor and employment and litigation practice groups of Gibson, Dunn & Crutcher LLP, and was based in the firm's Washington, D.C. office. While at Gibson Dunn, Lucas represented and advised employers and boards of directors on a wide variety of employment-related issues, including significant employment discrimination litigation, sexual harassment and other sensitive workplace investigations, and compliance with federal and state employment discrimination statutes. Commissioner Lucas has particularly deep experience counseling employers during large-scale voluntary and involuntary separation programs and related reorganizations to prevent discrimination on the basis of age and other protected characteristics. Immediately before joining the Commission, Lucas extensively focused on providing COVID-19-related counseling to employers to help them keep their essential businesses operational or safely reopen their workplaces, while also protecting their employees' rights under federal and state employment and privacy laws.

Commissioner Lucas received her B.A., magna cum laude, from the University of Pennsylvania and her J.D. from the University of Virginia. Earlier in her career, she clerked on the United States District Court for the Eastern District of Virginia. Lucas is the mother of two young daughters and is only the second Commissioner to give birth during her tenure on the Commission.