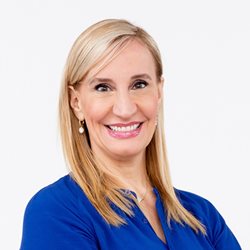 Monique R. Herena
Chief Colleague Experience Officer, American Express Company

Monique Herena is the Chief Colleague Experience Officer at American Express. As Chief Colleague Experience Officer, Monique is responsible for all aspects of the colleague experience, including talent management, talent acquisition, leadership development, colleague servicing, compensation and total well-being. Monique leads all colleague experience functions globally. As part of the Executive Committee, Monique works closely with the Chief Executive Officer, the Board of Directors and the Executive Committee to build a culture that attracts, retains and develops the best colleagues. She also serves as an officer of the American Express National Bank.

Monique joined American Express from BNY Mellon, where she was Chief Human Resources Officer (CHRO) and Senior Executive Vice President, Human Resources, Marketing and Communications since 2014. She worked closely with the Chief Executive Officer and senior management team to lead the development and execution of a business and culture transformation strategy that has made the bank more competitive in the market for talent.

Prior to BNY Mellon, Monique was at PepsiCo for 13 years where she served in a number of increasingly senior HR leadership roles, including assignments in Dubai and Chicago, as well as in their Purchase, NY headquarters. Her career also included several years at both Honeywell and The Quaker Oats Company, where she held leadership roles in a wide range of HR disciplines including talent management, talent acquisiton, mergers & acquisitions and Strategic HR business partner. She began her career as an executive retained search and organization change consultant.

Monique sits on both the Executive Committee and the Board of Directors of the Human Resources Policy Association (HRPA) and is also Chair of the HRPA American Health Policy Institute Advisory Board. Additionally, she is a graduate and faculty member of the Cornell ILR School CHRO Top Seat program. In 2022, The HR Digest named Monique as a Top CHRO of the Year and, for two years in a row (2017 and 2018), she was recognized by American Banker as one of the "Most Powerful Women in Banking" and "Women to Watch."

She holds a Bachelor of Arts in Communication Studies from the University of Wisconsin – Parkside (UWP) and in 2021, she received the Distinguished Alumni Award. She also earned two Masters of Arts degrees, one in Communication Studies from Northern Illinois University and one in Organization Psychology and Change Leadership from Columbia University, where she serves as a guest lecturer.

Monique lives in Scarsdale, NY with her husband Louis. They are proud parents of Matthew, Michael and Mia and their French Bulldog, Stella.
Contact Monique R. Herena
LinkedIn