In a fireside chat, Priya Parker and Ashley Goldsmith tackled a question at the center of the workplace of the future: how do we meet, and who decides?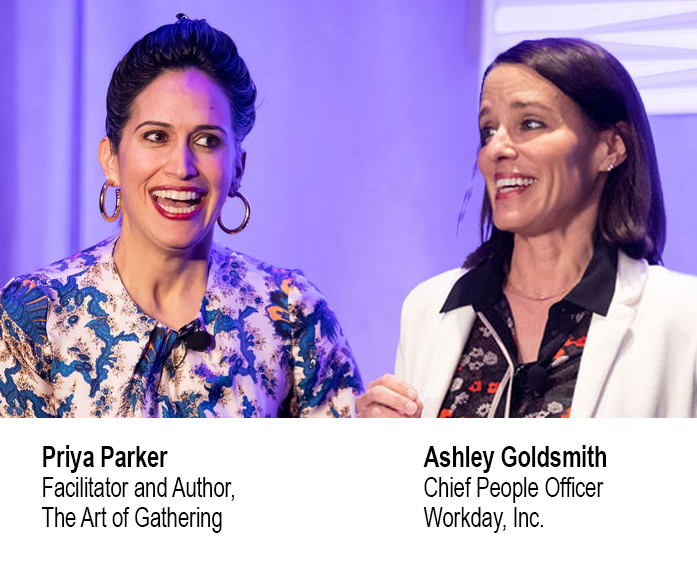 Creating an effective gathering: The biggest mistake organizers make when gathering people together is assuming the purpose is not only obvious, but shared. Drawing on her experience as a child moving between two different cultures, Ms. Parker has always been interested in "when and how we come together and when and how we come apart." In the workplace, many of our meetings, whether virtual or in-person, are on autopilot and do not meet the needs of the attendees. By centering meetings around a purpose, and clearly communicating that purpose, attendees are less likely to feel their time was wasted.
What is the purpose of this meeting? Getting everyone to ask this question is a great starting point to creating a good experience for employees. Gatherings start at the invitation, not just when the event itself starts. "We tend to under host before everyone arrives," Ms. Parker noted, continuing that "by not naming things and orienting" attendees, we waste our time. Provide a story with your invitation and give a name to your meeting that allows everyone to understand their role before the meeting starts.
Virtual meetings create a sense of psychological togetherness. The pandemic had a strong impact on the essence of meetings. While in some ways, virtual meetings can improve communication, they also tend to stifle dialogue and candor. In virtual meetings, openings matter—the first five minutes of any gathering disproportionately shapes the remainder of the meeting. Setting aside five minutes at the start of a meeting to allow for informality, or a virtual "coffee line," can provide the sense of togetherness that many miss from in-person gatherings.
"Part of culture-making is to allow heat," argued Ms. Parker, noting that allowing heat, or disagreement, is an incredibly important tool for HR leaders. Do not be afraid of specificity or exclusion in your meetings and gatherings. Many organizations are addicted to meetings and when efforts to eliminate meetings are introduced, there can be a sense of feeling left out. Ms. Parker argued that gathering is about exclusion and because our country and companies are so diverse, we have more ways of being and gathering. Attempts at avoiding specific ways of gathering so that people are not offended have made our gatherings and meetings about nothing.