Mark Wilson, President and CEO of HR Policy's American Health Policy Institute, led a discussion in which CHROs discussed how they consider culture, pay, and the growing importance of differentiated benefits to address critical changes in the workforce, and how to communicate these differentiated benefits to critical audiences.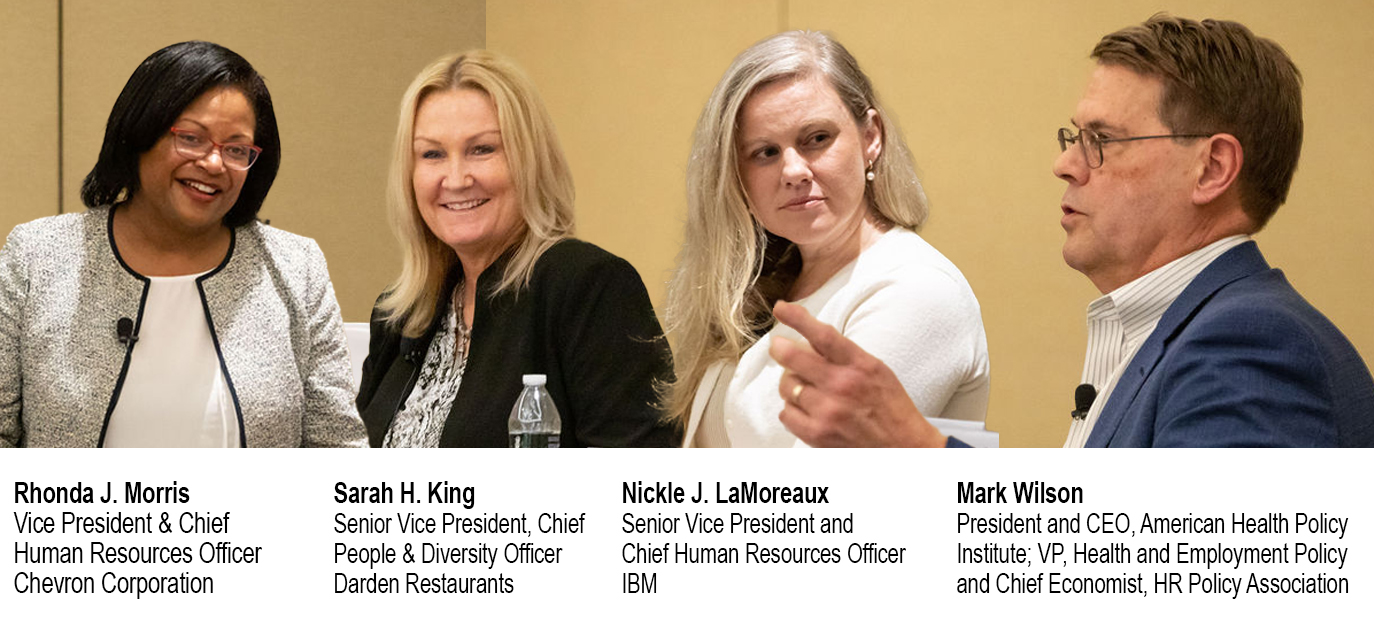 Changes that are prompting responses from companies include a workforce whose composition is rapidly changing as the Baby Boomer generation continues to age out of the workforce, Gen Z becomes a more important part of it, and the U.S. gradually shifts to becoming a majority-minority country. Meanwhile, changes in the regulatory environment, including a more restrictive view of independent contractors, are impacting traditional business talent decisions.
Nickle LaMoreaux described the transition her company underwent going from top-down management prior to the pandemic, to soliciting feedback and feeling obliged to meet all employee preferences, to developing a culture of honest and transparent communication between management and employees where managers communicated with employees what works for the company. Despite not fulfilling all employee preferences, internal communications tools such as Slack, where IBM management engaged in conversations directly with employees on issues such as pay and flexibility, built trust among employees. For example, a new performance management system was designed with feedback from all employees.
The importance of culture was underlined by Rhonda Morris, who related her company's commitment to hiring people who are particularly collaborative. This approach is reflected in the company's benefits offerings, which includes a pension plan. Chevron has also instituted internal communications tools that have facilitated organic organization of community groups within the company, from parent resource groups to dog owners. These elements, combined with open and frank communications with employees, have created a culture of trust and community that has supported Chevron's impressive retention rates.
The arrival of the "Sandwich Generation" – people with care responsibilities for both children and parents – has prompted a rethinking of flexibility, noted Sarah King. The pandemic in particular brought these issues to the surface, and prompted a "fundamental transformation" of the paradigms around flexibility and when work is done. The role of the manager as a builder of trust has also become an important element in recent years, particularly as mental health challenges and other sensitive management issues have emerged.