Published on: October 3, 2022
Authors: Gregory Hoff
Topics: Employment Law
Welcome to the third edition of HR Policy Association's quarterly NLRB Report. Each report provides a comprehensive update of law and policy developments at the National Labor Relations Board, including significant decisions issued by the Board, cases to watch, Office of General Counsel initiatives, rulemakings, and an overview of HR Policy's engagement with the Board for that quarter. These reports also feature expert analysis on a specific issue or topic from a guest writer.
As we approach the final quarter of the year, the now more than a year period since a new Democratic majority was installed at the Board has been characterized by a surge in public interest in unions, union petitions, and unfair labor practice complaints, bold rhetoric and policy advocacy from the Board's General Counsel who is seeking wholesale change to federal labor law, and to date, very few significant policy and precedent changing decisions from the Board itself.
This period of relative quiet from the Board is somewhat surprising to the many who expected the new Democratic majority to act quickly to undo many of the Trump Board's policy changes and to revert back to many of the policy positions we saw under the Obama Board. And yet, for much of its first year, the Board (albeit not its General Counsel) declined to become the labor policy lightning rod many expected it would, issuing few, if any major decisions.
The honeymoon period for employers may be coming to a swift end, however. Earlier this month, the Board issued what could be considered its first significant, precedent changing decision, ruling that any employer uniform policies that in any way restrict employees from wearing union insignia are presumptively unlawful. Less than a week later, the Board issued a proposed rule that would drastically increase joint employer liability. Further, it is likely that the Board will issue decisions by the end of the year in five pending cases in which it invited amicus briefs earlier this year, each with the potential to significantly upend federal labor law. Finally, beyond these five cases, there are several more pending in which the General Counsel has argued for the Board to adopt radical changes to federal labor law, including card check elections and prohibitions on employer speech. In short, change is still coming, just perhaps not at the pace we originally expected.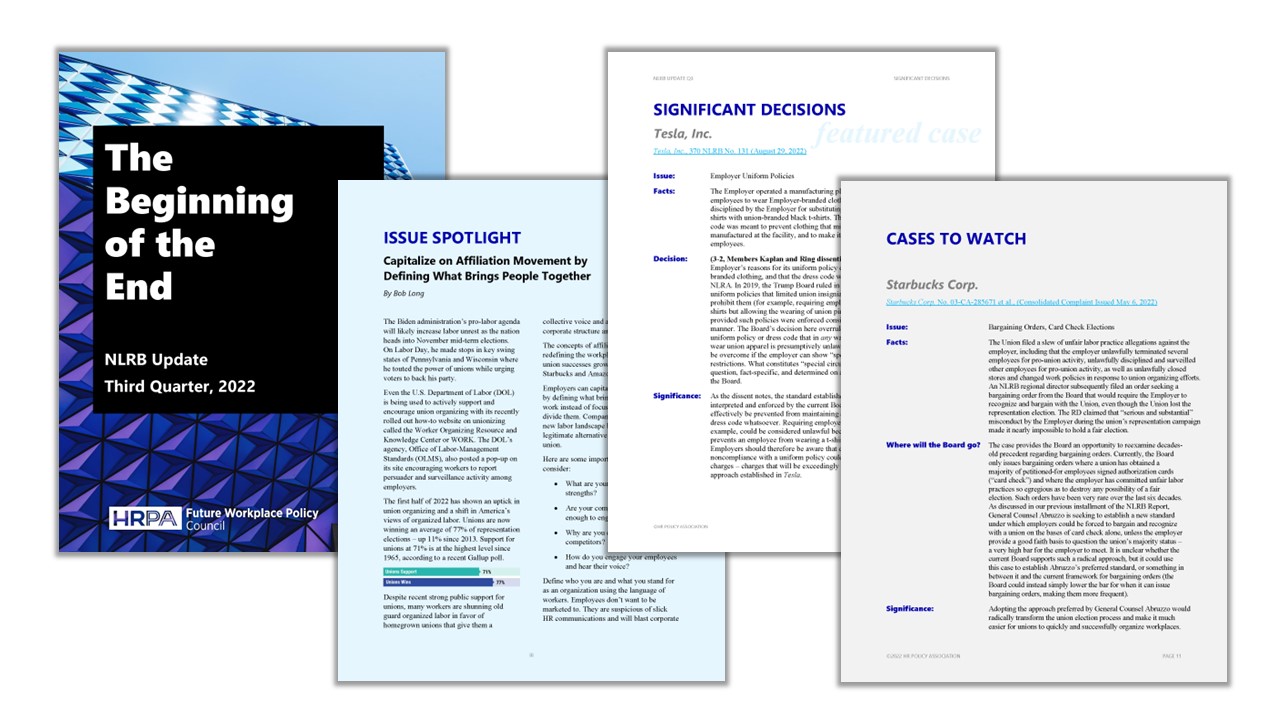 MORE PUBLICATIONS
June 10, 2020 | Publication
January 24, 2020 | Publication
February 20, 2020 | Publication