By Chatrane Birbal, Daniel W. Chasen, Wenchao Dong, Margaret Faso, and Gregory Hoff
"We're not just talking about the future of work—we're actually getting on with it," noted HR Policy Association Chair Pam Kimmet, CHRO at Manulife, in kicking off the HR Policy Association's CHRO Summit. After three years of pandemic-induced change, chief human resource officers gathered to discuss their top emerging challenges and opportunities, including conversations on employee voice and expectations, human capital metrics disclosure, diversity initiatives, and more.
Ariel Investments Founder John Rogers on Diversity as Key Tool in Company Success
Ariel Investments Chairman, Co-CEO and Chief Investment Officer John Rogers Jr. joined HR Policy Association President and CEO Tim Bartl for a fireside chat on how companies can use a diverse culture to attract investments and stay competitive in the race for talent.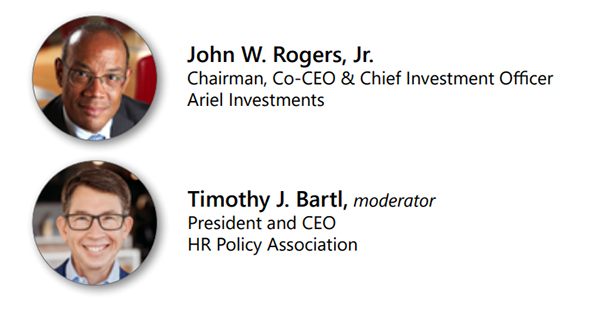 A willingness to lead and guide younger generations builds trust: Mr. Rogers credits his success to strong role models in his parents, mentors, and Black business leaders in Chicago who gave him the confidence to start his investment firm at the age of 24. He emphasized that exposure and mentors build knowledge and confidence to take risks and follow through on goals.
Financial education helps close the diversity gap: Starting from age 12, Mr. Rogers' father gave him shares of stock as birthday and Christmas gifts, and that is how he initially learned about the stock market, companies and performance. Based on his experience, Ariel Investments started two programs aimed at improving financial literacy for minority students which aim to get young people exposed and immersed in the investment field early on. Through programs such as these, companies and civic organizations can engage with their community and local institutions, help educate young people, and communicate that they are looking for diverse talent for internship programs or hiring.
Diversity comes down to leadership: Mr. Rogers emphasized that having senior diverse talent at the highest ranks of an organization and on boards is critical in tackling workplace diversity. Not only does it build a stronger culture internally but when a company demonstrates a commitment to diverse talent, people will want to work there long term, a principle that Ariel Investments' leaders exemplify. "Once you've established the reputation that you are committed to diverse talent," Mr. Rogers noted, "people will want to come work with you."
Get intentional about working with diverse companies: With the shift to an information and technology economy, it is also critical that companies seek to work with minority owned businesses in these growing areas because that's where the developing talent is. If that is not possible, leadership needs to insist that these companies at least have minority employees in key leadership positions. Mr. Rogers concluded by stating investors look at two diversity factors when making investment and voting decisions: that companies represent the diversity of America and that corporate diversity efforts go beyond checking a box.
CHROs Chart the Course for Sustainable Diverse Talent
Perry Stuckey, Chair, Council on Inclusion and Diversity, Vice Chair, HR Policy Association, and Senior Vice President and CHRO, Eastman, moderated a discussion featuring a panel of CHROs and diversity, equity, and inclusion experts on the importance of inclusion to attracting and retaining diverse talent, and how companies can create a sustainably inclusive culture.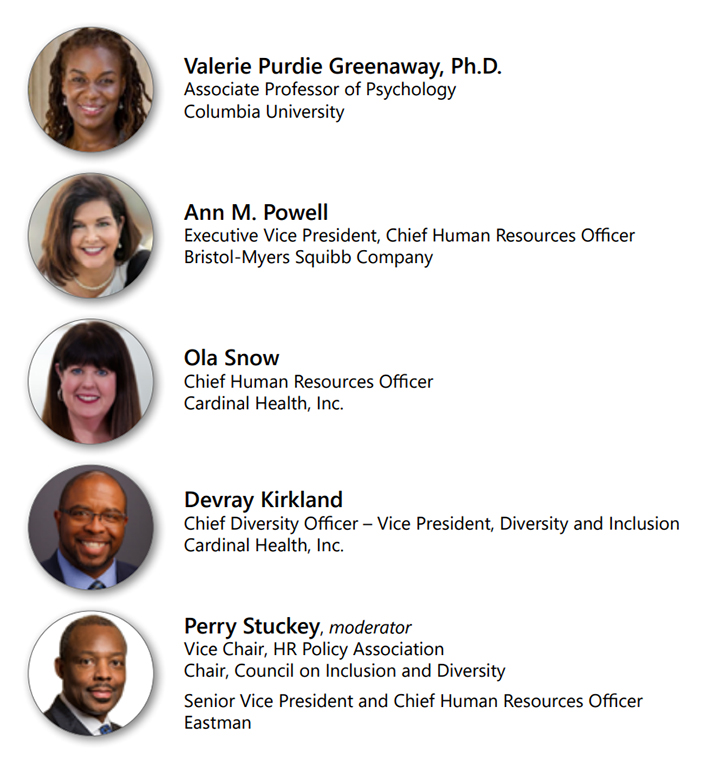 "We have to be intentional and drive courageous leadership, and we have to make diversity, equity and inclusion fit our companies – no one size fits all." Mr. Stuckey began the discussion outlining the continuous need for organizations to create meaningful outcomes on diversity, equity and inclusion with a leadership-on-down approach.
Inclusive culture essential for attracting and retaining diverse talent: "A foundation of a diverse organization is to start by creating a culture of belonging," stressed Dr. Valerie Purdie -Greenaway. Dr. Purdie-Greenaway outlined several research findings related to the links between inclusion and employee performance and retention, focused on making people feel connected to each other and the organization through "empathetic understanding." "Organizations that can create a sense of belonging will have a competitive advantage," she added.
Motivation and accountability: Ann Powell and Ola Snow provided their perspectives on how best to motivate management to fully buy in to DEI initiatives, including transparent conversations that may require talking through uncomfortable issues. "We talk about equity at every board meeting and in executive-level meetings constantly," noted Ms. Powell, who also discussed the data behind wellbeing and health equity. Ms. Powell and Ms. Snow also highlighted the importance of accountability for DEI efforts, including linking results to annual bonus programs and incentive plans.
"Leadership is everything." Devray Kirkland emphasized the need for a top-down approach to DEI efforts, and discussed how the C-suite can foster DEI leadership in all other levels of an organization. "You have to empower people to feel as if they can provide progress on diversity, equity and inclusion," noted Mr. Kirkland. "Employees can lead this work from wherever they sit in the organization, if they are empowered to do so."
"In 'CHRO' is the Word Human:" Managing Global Challenges and Workforces
James Jones, Senior Advisor of HR Policy Global, moderated a panel of HR leaders at multinational companies to discuss the unique challenges they have faced over the past two years and the importance of incorporating international employees into the decision-making and communication process.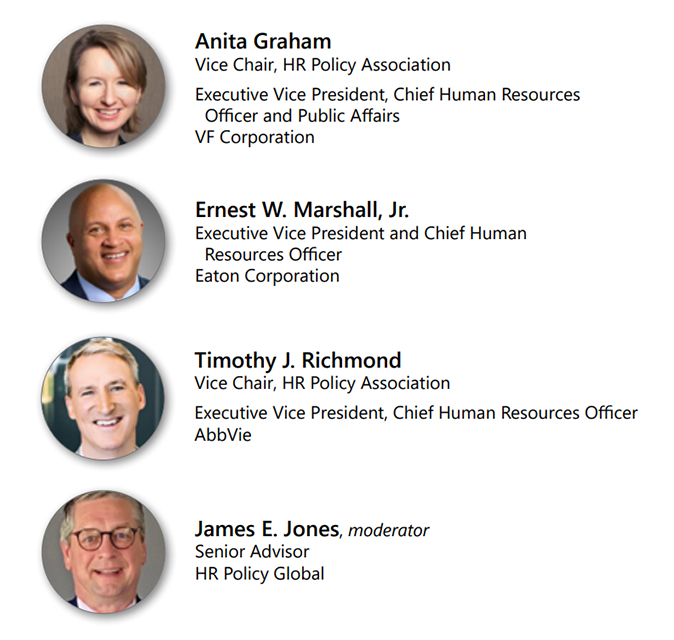 Build a framework to guide decisions on challenging global issues. The past two years haven't seen a shortage of crises for new global leaders, from a global pandemic and geopolitical conflicts to new forms of employee voice. Ms. Graham encouraged participants to consider building a framework around whether to react to various issues. She mentioned that VF built a cross-functional team to review and rework this framework periodically, which allows them to tweak the framework as they learn. The framework gives a reference point when things get confusing.
Mr. Marshall emphasized the importance of genuinely engaging with various employee groups and listening to employees' voice when the pandemic gave an opportunity to re-evaluate important issues, such as remote work, life-work balance, and mental health. "If you don't intentionally include, you unintentionally exclude," he said to the CHRO community. "More than ever, what we are, what we stand for, will be important for next 10 to 15 years. And remember, in 'CHRO' is the word Human."
A company should ensure that the strategy and narratives from U.S. headquarters are relevant and sensitive to all countries where they operate, considering the local context, priorities, regulations, and cultures. The panelists emphasized the importance of incorporating the global workforce into the decision-making and communication process and ensuring internal messages are comprehensive and inclusive. Mr. Richmond stated that a company's core values across the globe should guide decision-making. Mr. Marshall acknowledged that often senior leaders' mentality is still very U.S.-centric. He encouraged the HR community to consider engaging on issues that matter to the international workforce. Ms. Graham shared that at VF a group of leaders with global experience and understanding came up with an approach of localizing certain messages and making them transparent to local employees.
A CHRO participant commented that global HR teams are facing enormous stress and became the center of various issues during the pandemic. The panelists added that to deal with such fatigue and help the team to adjust, leaders should be mindful of employee mental health, establish a supportive environment, and leverage technology.
On the topic of attracting and retaining high-potential talent globally, the panelists emphasized that the best talent differentiates not only on what has been done, but also how it has been done. Mr. Jones encouraged the audience to think of succession planning in a more holistic and sustainable way. It's important to keep a "COVID-leadership" mindset in the post-pandemic era, acting more effectively by prioritizing agility, speed, and resilience.
Preparing for the SEC Forthcoming Human Capital Metrics Disclosure Rules
The U.S. Securities and Exchange Commission (SEC) is expected to release its proposed rule on human capital metrics in the second quarter of 2022.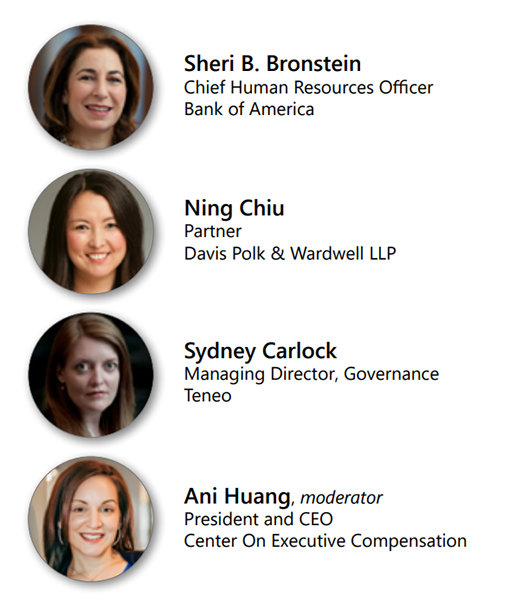 Ani Huang, President and CEO of the Center On Executive Compensation, moderated a panel on how companies have approached disclosures so far, and how a final rule will impact disclosures and engagement with key internal and external stakeholders.
"Our decision to disclose human capital data had nothing to do with upcoming SEC activity. Investors wanted to know about our talent, and we wanted to be proactive and tell our story in a fact-based way about why human capital is so important to us" said Sheri Bronstein, CHRO of Bank of America, explaining why the company decided to publish a standalone HCM report in 2019.
Having a standalone HCM report has been helpful for internal and external stakeholders, Ms. Bronstein further stated. The company has streamlined production of human capital analytics data, and having one source document is useful when talking with investors, media, and internal colleagues. "I cannot overstate how important it is to have one source of truth. [The HCM report] encouraged us to make the most of our data and narrative."
The SEC will likely produce a more prescriptive set of rules requiring quantitative data on turnover, skills and development training, compensation, benefits, health and safety, and workforce demographics, including independent contractors, Ning Chiu of Davis Polk said. A final rule could be implemented in 2024.
Large institutional investors like BlackRock and Vanguard want to know how companies differentiate themselves in terms of HCM, noted Sydney Carlock of Teneo. She explained that most large institutional investors are supportive of the SASB framework and believe the more data the better, but it's a matter of quality not quantity. Further, because activist investors have a history of pulling data without any context, "it's good practice to include an explanation of the data (good or bad) to provide context."
As the SEC pursues the new rule, Ms. Huang shared that the Center will continue to promote a principles-based rule, discouraging overly prescriptive metrics. The Center will solicit input from membership on HCM reporting and on specific topics like the definition of "turnover" (the SEC may pursue a single definition which could lead to unintended consequences) to inform comments once a rule is formally proposed.
Flexibility Key Trend in Addressing Employee Expectations in the Evolving Workplace
The pandemic has caused employees to reevaluate their relationship to work, including the desire by many to work for an organization with a purpose they believe in, and expectations that employers will help them manage their well-being. Future Forum Executive Leader Brian Elliott and Boston Consulting Group Managing Director Deborah Lovich joined HR Policy President and CEO Tim Bartl to discuss these trends.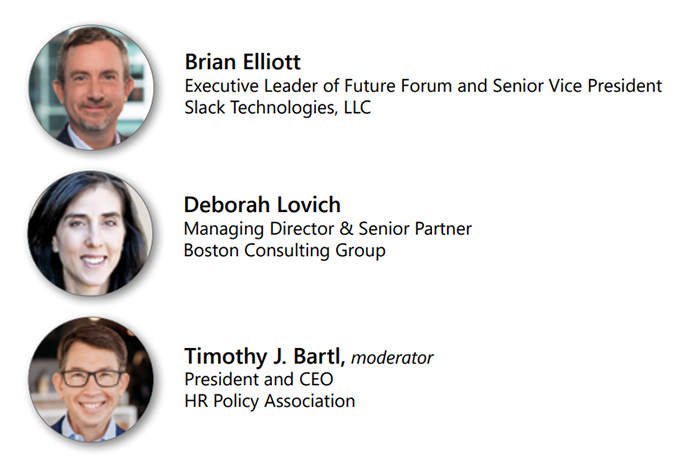 "The way we work is completely broken—and hasn't changed since the industrial revolution," noted Ms. Lovich.
During the pandemic, employees learned that making work flexible around life can work. Back to the office plans that fail to factor in employee input at the team level, therefore, can represent a loss of work/life balance to many employees—and a disadvantage in the competition for talent. This is particularly true for groups that have been historically marginalized in the workplace, i.e., diverse employees and working mothers, Mr. Elliott pointed out.
Employee-executive disconnect a major hurdle: Executives are far more likely than other employees to prefer to work in the office. However, in terms of building strategies driving toward employee attraction and retention, executives can be a "focus group of one," Ms. Lovich stated.
Data-driven employee experience: Engaging with employees, seeking their input and breaking down data among different groups are best practices for developing a strategy to attract and retain a competitive workforce. "Trust is the basis for all of this," Mr. Elliott said. "You have to be willing to say you don't know all the answers."
Toward an Employee-Driven Future: Concurrent Sessions Explore Employee Voice, Experience, and Expectations in Critical Areas
Employee voice, experience and expectations are top of mind for Chief Human Resources Officers, as the pandemic has created a rethinking of these topics from senior executives on down to new hires. After hearing from experts on a plenary discussion exploring these themes, the conference broke into four concurrent sessions, and each attendee had the opportunity to attend two of these sessions, which are detailed below. The sessions covered four key areas: social and political discourse, emerging technologies, union activity, and wellness. Following the concurrent sessions, panelists synthesized the major lessons and takeaways in a recap session titled, "Toward an Employee-Driven Future? How Worker Interests Are Shaping the Evolving Workplace."
Employee Voice, Societal and Political Discourse, and Employer Responses
In an environment of increasing polarization, bitter disagreements in our societal discourse have begun to spill into the workplace. In a recent survey, 90% of respondents reported spending 3.5 hours per week managing conflict at work. After years of asking employees to "bring their whole selves to work", companies are now faced with managing the expression of diverse views and opinions on social and political issues.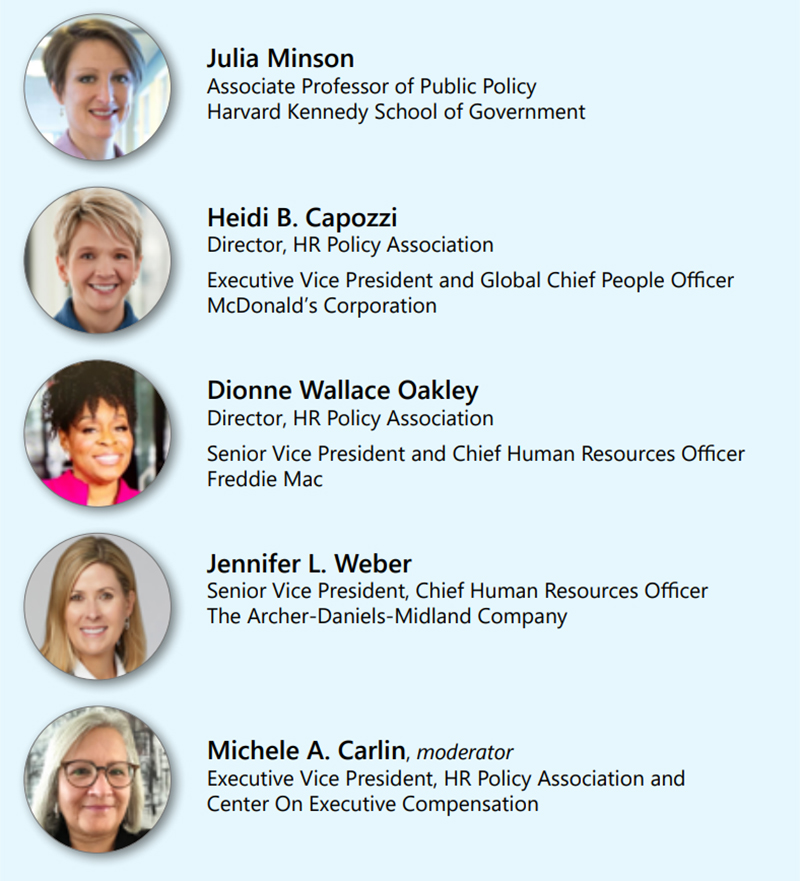 So, what suggestions do HR leaders have to help companies determine how to navigate increasing pressure by employees to take positions on divisive and polarizing issues?
Listen to your employees' voices through employee resource groups and other employee listening methods.


Be transparent. If you are still determining a position on a topic, say so. When you roll out your position, share the rationale and the basis upon which you made the decision.


Use your values and mission to frame your position. Realize you don't need to weigh in on every single controversial topic; instead, focus on the topics that align with your values, mission, or brand.


Drive a culture of inclusion (that includes remote and new employees) to deepen interpersonal relationships, which in turn, can dampen the impact of conflict.


When directly challenged, try to think about the positive element you can take from it. For example, when receiving a strong negative reaction to a position, recognize that the employee's willingness to speak out shows a level of comfort and trust, and make them feel heard. Often, your willingness to reach out directly via a phone or video call to the employee can significantly reduce the tension.
When considering interactions in the workplace, disagreement can be positive when it breeds innovation and ideas. But it can morph into conflict due to a phenomenon called "naïve realism." Naïve realism is the belief in the objectivity and accuracy of one's own views and opinions. As a result, when others disagree with our point of view, we try to persuade them of why they are wrong. If they continue to resist, we assume that they are either stupid or biased, and disagreement turns into conflict.
Based on research by Professor Julia Minson, there are multiple tools to reduce conflict, including:
Psychology levers that create psychological safety, foster curiosity, and build engagement.


Organizational structures that maximize the enhancement of information diversity, disrupt siloes, and flatten hierarchies.


Decision frameworks that are most effective when they are designed to require contribution, mitigate bias, and center dissent.


Fostering open mindsets through receptiveness to opposing views. Receptiveness is defined as the willingness to access, consider, and evaluate supporting and opposing views in a relatively impartial manner.
Dr. Minson and her team have developed a free tool designed to measure receptiveness to other points of view. Go to Receptiveness.net and click "Take the Quiz" to learn more. A copy of Dr. Minson's quick reference resource will also be shared on the Summit webpage.
Workplace Technology, HR Strategy, and the Talent Crunch
Over the last year, over 47.8 million American workers left current jobs resulting in average attrition of 4 million workers monthly. This development has provided a major challenge for organizations and CHROs seeking new ways to improve the employee experience. Leveraging technology to understand employee sentiment has gained traction, especially in the wake of the pandemic. Organizations have developed engagement surveys for their workforces, which have proven to be a key success factor. Many have leveraged various technologies, both in house developed and third-party tools to gain insights into when, where, and how employees want to work.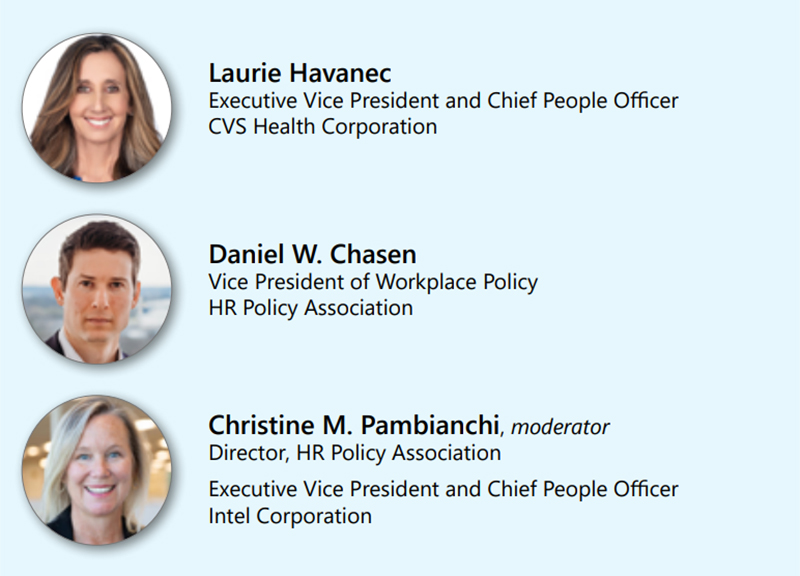 Engagement technology is also being used to pulse organizations at specific points in time. While most organizations still utilize the annual survey model as a baseline, the addition of more of a real-time approach has gained significant traction over the past two years. This cadence provides more timely insights which creates opportunities for HR to react faster to employee sentiments and drive real change.
Through the power of technology and use of artificial intelligence, organizations can provide immediate resources to their workforces, including in areas of safety, wellbeing, and training and development. This was especially important for the health care sector given mental health and burnout challenges.
Meanwhile, policies under consideration—and in some cases, passed—at the state and local levels and in Washington, D.C. could create significant hurdles for companies seeking to enhance employee voice and improve the employee experience through the use of emerging technologies. These include overly broad bans on certain types of technologies, requirements for companies to disclose and alter employee information upon an employee's request, audits of algorithmic solutions without mature or widely accepted standards, and other concerns.
Earning the trust of all stakeholders, including employees, is a top goal for companies. With increased usage of AI during the hiring and screening processes, employees have greater concerns that organizations are invading their privacy. While the use of AI can create real insights and drive faster change, CHROs expressed caution about leveraging the various tools powered by AI without appropriate principle-driven oversight. In a survey conducted during the sessions, approximately 43% stated implicit bias was a concern when using AI; 21% had concerns around policy developments and increased legal scrutiny; and, rounding out the top three, 16% expressed concerns about potential negative impact of technologies on corporate culture.
As technology continues to provide HR functions innovative solutions, companies must listen to their employees to learn how the use of such technology changes the employee experience and ensure employees still feel the "human" side of HR.
Union Activity, Employee Voice and the Regulatory Climate
In a tight labor market and increased work flexibility created by the pandemic, an organization's need to be attuned to employee voice is more important than ever. Yet, private sector union membership continues to remain at historic lows, prompting the panelists to discuss whether union membership continues to be the most effective tool for workers to use their voice, whether the current climate will kickstart a new wave of unionization, and whether the decline in union representation over the preceding decades is a result of legislative and regulatory failure, aggressive employer anti-union activity, or a failure by unions to adapt and innovate.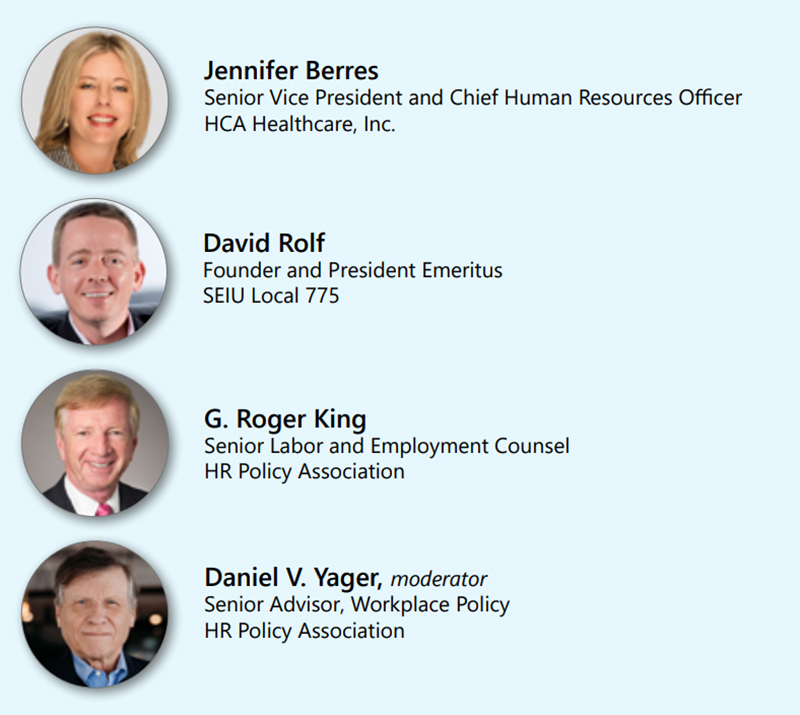 The sources of the problem vary, depending on the perspective of the panelist. From a union perspective, an unfair U.S. regulatory environment has enabled a $50 trillion transfer of wealth from the working majority to the owner minority. This perspective believes that the norm in the United States should be a shift towards workers being represented by unions as opposed to the current 6% or so of represented workers in the U.S. today.
From an employer perspective, HR departments are looking to address employee concerns and require flexibility to do so. Workers should not have to pay union dues to have their concerns surrounding worker safety, pay and benefits be addressed by the companies they work for.
Panelists did agree that the current system, as enshrined by the decades-old National Labor Relations Act, is largely outdated and too adversarial. The panel also discussed how the advent of social media has changed the ways employee voice is expressed and the leverage that can be created on companies.
Employee Expectations and Wellbeing
Employees are looking to employers to play a primary role in their mental, social, physical, emotional, and financial wellbeing. Today, social media allows employees to share what has become the norm, so transparency is more important than ever. But there's a disconnect between executives and employees on the perception of wellbeing benefits. While employers rate their wellbeing benefits at 7.6 out of 10, their employees rate them much lower - 4.4 out of 10. Employers will need to close this gap to improve their culture and the wellbeing of their workforce.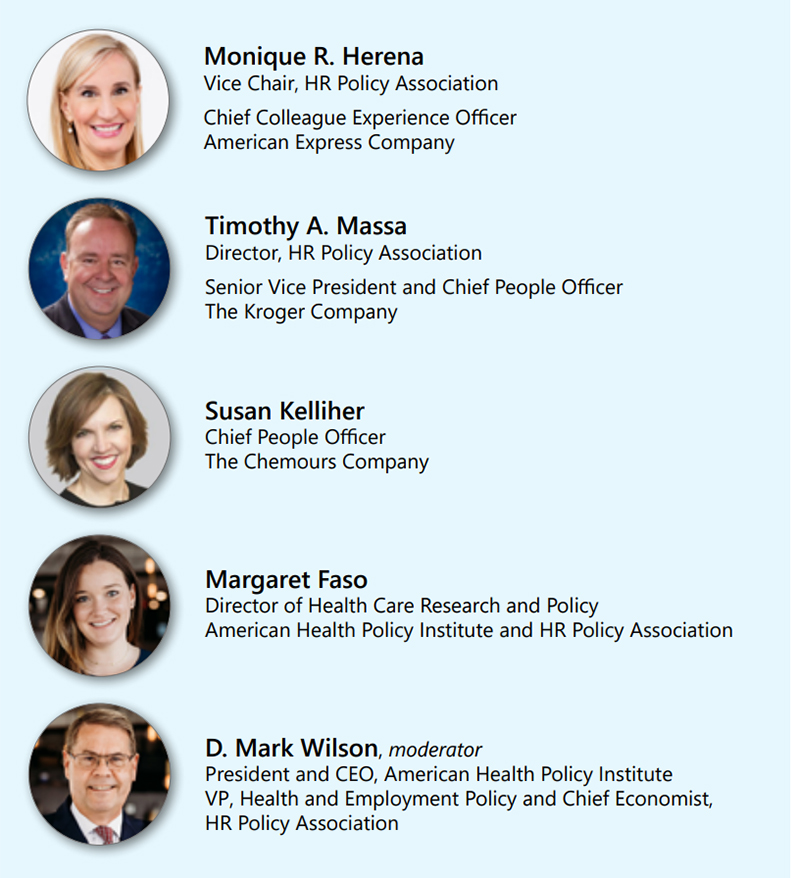 How are companies addressing this gap? Some strategies discussed include:
Ground the enterprise's approach to wellbeing in its purpose and values and stick to it.


For many companies, safety has become a core value in recent years; but it is no longer just physical, it encompasses mental and emotional wellbeing. You may need to reframe the issue to gain acceptance – for example, what happens if someone is mentally unwell? If they are, they likely can't focus on physical safety.


Remove the stigma of discussing mental health, reinforce that it's OK to not be OK and that it's safe to take advantage of wellbeing benefits.


Make wellbeing personal. Flexibility and wellbeing are different for every person and leaders need to demonstrate this, be authentic and tell their story.


Stay in learning mode. Employee voice is more critical than ever, and it's OK to get it wrong, get feedback and pivot. Candid conversations with employees are one of your best assets to know what really matters to them.


Transparency is key. Whether in hiring or retaining, educating your employees on the value of their total benefits increases accessibility.


And finally, as costs are rising, failing to implement a holistic approach to wellbeing is no longer an option. Be on the agenda with your management committee and board, come with the internal and external data and be ready to engage in the dialogue about what is best for your employees.
Published on: June 10, 2022
Authors: Daniel W. Chasen
Topics: Corporate Governance, COVID-19 Employer Issues, Employee Wellbeing, Employment Law, ESG and Diversity & Inclusion, Global, Inclusion and Diversity, Jobs, Skills and Training, Technology, Wellness