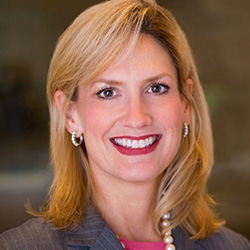 Carol Surface
Senior Vice President and Chief Human Resources Officer, Medtronic PLC

Carol Surface joined Medtronic in September 2013 as Senior Vice President and Chief Human Resources Officer. She leads Medtronic's human resources strategy for 90,000+ employees worldwide. She also provides leadership for Philanthropy and Medtronic Labs, and serves as the Board Chair of the Medtronic Foundation. Key focus areas include organizational transformation, enterprise talent management and succession planning, leadership development, inclusion and diversity, executive compensation, and community and health initiatives.

Prior to joining Medtronic, Carol served as Executive Vice President and Chief Human Resources Officer at Best Buy Co., Inc., a leading provider of technology products, services, and solutions. Carol also held a series of human resources leadership roles at PepsiCo, including serving as Chief Personnel Officer for PepsiCo International. She has lived and worked in Asia, the Middle East, and the United States.

Carol serves as Vice Chair of the HR Policy Association, Co-Chair of Gartner's CHRO Leadership Board, and is a member of the Advisory Board of the University of South Carolina Center for Executive Succession. She also serves on the Greater MSP Board of Directors in the Minneapolis community. Additionally, she is a member of The Society for Industrial and Organizational Psychology. In 2020, Carol was elected as Fellow of the National Academy of Human Resources (NAHR), the highest honor granted in the human resource profession. She earned a Ph.D. in industrial/organizational psychology from Central Michigan University.
LinkedIn