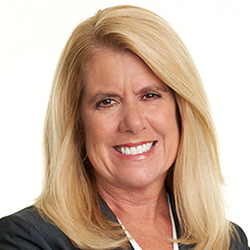 Ann Addison
Corporate Vice President & Chief Human Resources Officer, Northrop Grumman

Ann Addison is corporate vice president and chief human resources officer for Northrop Grumman, a leader in global security.

In this role, she is responsible for all aspects of human capital strategy and programs. Her responsibilities include organization effectiveness; change leadership; performance management; talent development and acquisition; succession planning; executive development; training; labor/employee relations; and compensation and benefits.

Addison has more than 30 years of business and human resources experience. She joins Northrop Grumman from Leidos, where she was executive vice president and chief human resources officer.Prior to joining Leidos, she was the vice president of human resources for Lockheed Martin Information Systems & Global Solutions. Addison has also served in other human resources management positions at Lockheed Martin, Global Exchange Services and General Electric Company.
She earned a bachelor's degree in business analytics from Indiana University.

Northrop Grumman solves the toughest problems in space, aeronautics, defense and cyberspace to meet the ever evolving needs of our customers worldwide. Our 90,000 employees define possible every day using science, technology and engineering to create and deliver advanced systems, products and services.

LinkedIn