Troy A. Paredes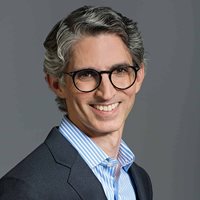 Troy A. Paredes
Former Commissioner (2008-2013), U.S. Securities and Exchange Commission
Commissioner Paredes was appointed by President George W. Bush to the U.S. Securities and Exchange Commission and was sworn in on August 1, 2008.
Before joining the SEC, Commissioner Paredes was a tenured professor at Washington University School of Law in St. Louis, Missouri. He also held a courtesy appointment at Washington University's Olin Business School. Commissioner Paredes primarily taught and researched in the areas of securities regulation and corporate governance.
During his tenure as a professor, Commissioner Paredes made presentations around the country on securities law and corporate governance, and he served as an expert on various legal matters. In addition, Commissioner Paredes has researched and written on numerous topics such as executive compensation; hedge funds; private placements; the allocation of control within firms among directors, officers, and shareholders; the psychology of corporate and regulatory decision making; behavioral finance; alternative methods of regulation and market-based approaches to corporate accountability and securities regulation; comparative corporate governance, including the development of corporate governance and securities law systems in emerging markets; and the law and business of commercializing innovation. Commissioner Paredes's scholarly work, among other things, has advocated for rigorous cost-benefit analysis when regulating and emphasized the need for accessible and understandable disclosures that investors can use effectively.
As a professor, Commissioner Paredes has authored articles addressing these topics, and he is also a co-author (beginning with the 4th edition) of a multi-volume securities regulation treatise with Louis Loss and Joel Seligman entitled Securities Regulation.
Before joining Washington University's faculty in 2001, Commissioner Paredes practiced law at prominent national law firms. As a practicing lawyer, Commissioner Paredes worked on a variety of transactions and legal matters involving financings, mergers and acquisitions, and corporate governance.
Commissioner Paredes graduated from the University of California at Berkeley with a bachelor's degree in economics in 1992. He went on to graduate from Yale Law School in 1996.