Claire McCaskill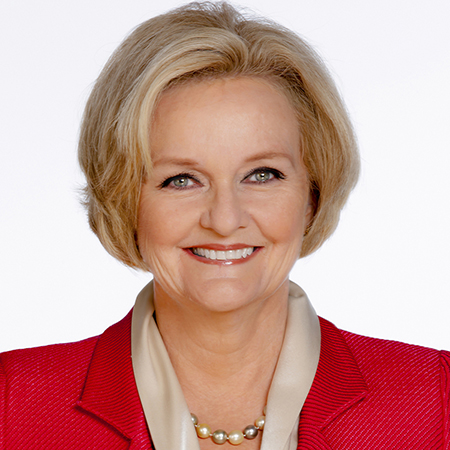 Claire McCaskill
U.S. Senator, 2007–2018

Claire McCaskill has spent her career as a prosecutor and elected official devoted to public service and earned a reputation in the U.S. Senate as a plain-spoken, independent, and effective champion for Missourians and all Americans.
Born and raised in the Show-Me state, Claire attended college and law school at the University of Missouri and began her career as an assistant prosecutor in Kansas City, specializing in prosecuting arsons and sex crimes.
Claire was elected to the Missouri House of Representatives and made history when she became the first woman elected Jackson County prosecutor, where she launched one of the nation's first drug courts and established a first-of-its-kind domestic violence unit. Claire continued raising the level of accountability in Missouri as the state's Auditor and later took on her own party establishment, becoming the first person to ever defeat a sitting Missouri Governor in a primary election.
In 2006, Claire became the first woman elected to the U.S. Senate from Missouri – winning the seat once held by Harry Truman – and was resoundingly re-elected in 2012.
Claire's background as a prosecutor and auditor deeply informed her work in the Senate, where she championed a six-year-long battle to rein in wasteful wartime contracting in Iraq and Afghanistan and addressed tens of billions of wasted taxpayer dollars. She fought to curb sexual assault in the military and on college and university campuses, and led a historic, bipartisan investigation into online sex trafficking on the website Backpage and passed legislation to give law enforcement tools to prosecute websites like it.
Claire launched the largest congressional investigation into the business practices of opioid manufacturers and worked across the aisle to pass legislation to lower the price of prescription drugs. The daughter of a World War II veteran, she fought tirelessly for vets, including passing into law a bill to deliver decades-old relief to veterans who were exposed to mustard gas during World War II. Known for her work on behalf of consumers, Claire spearheaded efforts to improve consumer protections against robocalls, recalled vehicles, and sky-high cable bills. Always one to seek out the concerns of her constituents, Claire was known as the "town hall Senator," after holding more than 50 town halls in one year in every corner of rural Missouri.
Claire and her husband Joseph live in St. Louis and have a blended family of seven children and twelve grandchildren.