Kate Gebo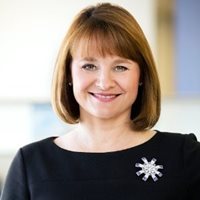 Kate Gebo
Executive Vice President Human Resources and Labor Relations, United Airlines, Inc.
Kate Gebo is the executive vice president of human resources and labor relations for United Airlines. Kate is responsible for leading a global team of more than 500 professionals in the transformation of United's culture.
In her role, Kate and her team are the principle drivers of delivering on commitments to employees to provide a great employee experience; recruiting, developing and retaining top talent; and building effective teams to put customers at the center of everything United does while working closely with our labor partners.
Kate previously served as senior vice president of customer service delivery and chief customer officer at United. She was responsible for delivering an integrated and industry-leading travel experience for customers from booking to landing. Kate also previously served as United's vice president for the office of the CEO, where she worked with United's CEO, Oscar Munoz and the executive team to coordinate strategic company initiatives.
Kate joined United in 1998 and also held roles leading the Corporate Real Estate organization and in Procurement. Prior to joining United, Kate worked at Continental Airlines.
Kate received her bachelor's degree in finance from Chicago's DePaul University. She earned a master's degree from the Graduate School of Business at Loyola University of Chicago.