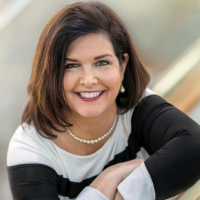 Ann M. Powell
Executive Vice President, Chief Human Resources Officer
Bristol-Myers Squibb Company
Ann M. Powell is the global head of Human Resources with direct responsibility for driving the corporation's global capabilities in talent management, culture and organizational effectiveness tied directly to Business performance. She also currently serves as the executive sponsor of the Disability Advancement Workplace Network (DAWN) People and Business Resource Group.
Ann works across the enterprise to support Bristol Myers Squibb's commitment to creating an energizing work experience and a culture that is powerfully diverse and broadly inclusive, where individuals are encouraged to exceed their potential and inspired to make innovative contributions for our patients and the global communities in which they live and work.
"The courage and passion of our workforce is truly inspiring and drives an even higher level of engagement in making a difference in the lives of patients," says Ann.
Ann's industry experience and expertise lie in executive compensation, leadership development, change management, diversity/inclusion, training design and delivery, talent acquisition, labor relations, mergers and acquisitions, divestitures and start-ups.
With a career spanning both international and domestic assignments, Ann has held leadership roles of increasing responsibility within both the chemical and pharmaceutical industries, including Dow Chemical and Wyeth Pharmaceuticals. Prior to joining Bristol Myers Squibb in 2013, Ann was the chief human resources officer for Shire Pharmaceuticals.
Ann earned a bachelor's degree from Iowa State University and a master's degree in industrial relations from the University of Minnesota.