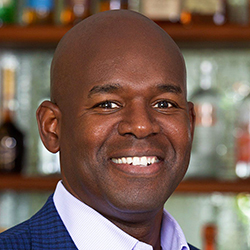 Terry Arnold
Senior Vice President Human Resources and Chief Human Resources Officer, Southern Glazer's Wine & Spirits

Terry Arnold is Senior Vice President, Human Resources at Southern Glazer's Wine and Spirits. In this role, Mr. Arnold is responsible for providing leadership in developing and executing the Company's human resources strategy in support of the overall business plan and strategic direction of the company including: organization design, talent management, talent acquisition, learning and development, compensation, benefits, diversity and inclusion, HR information systems and processes, labor relations, and policies and procedures.

Mr. Arnold brings more than 20 years of experience in human resources, with deep leadership experience driving operations, business processes, supply-chain optimization, sales management and information technology initiatives for global, industry-leading companies. He has been recognized for his entrepreneurial spirit and for building strong teams, while achieving bottom-line results through a strategic process improvement approach.

Prior to joining Southern Glazer's, Mr. Arnold served as Vice President of Human Resources at BMC, a leading building material, manufacturing and distribution company. In this position, he led human resources for the company's multi-state operations, inclusive of a diverse labor force spanning 120 locations. Most recently at BMC, Mr. Arnold focused his efforts on driving process consistency, leadership development and strategic talent management.

Mr. Arnold's extensive background includes leading teams supporting a variety of functions at Univar and General Electric. He has excellent hands-on experience in broad field organizations, talent acquisition, performance management, Lean Six Sigma, mergers and acquisitions, and integrations. He has also worked in generalist roles with Dell and Stanley. Additionally, he served eight years in the United States Army, culminating as Captain, Infantry (Army Ranger), where he acquired a strong foundation in leadership and communication skills.

Mr. Arnold earned his bachelor's degree in political science and marketing at Florida A&M University and a master's in human resources management at Troy University. He has also completed subsequent executive programs at the University of Michigan and GE's Management Development Institute - Crotonville.

In addition to his professional accomplishments, Mr. Arnold serves the community by volunteering through Omega Psi Phi Fraternity, Inc. to help address the issues of homelessness, poverty and social justice. He and his wife, Denise, are looking forward to relocating to the Miami area.