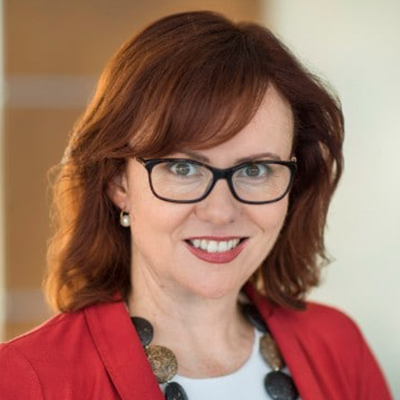 Kiersten Robinson
Chief People and Employee Experiences Officer, Ford Motor Company

Kiersten Robinson is Ford Motor Company's chief people and employee experiences officer. She assumed this position October 1, 2020.

In this role, Robinson has responsibility to leverage Ford Motor Company's aligned and strategic enterprise capabilities through strong, diverse teams in support of the business, enterprise priorities and progressive employee and workplace experiences.

As the senior leader and corporate officer overseeing people processes globally, Robinson ensures the development and execution of business strategies that reflect the global business environment, customer and market needs. She reports to Jim Farley, Ford CEO.

Before being appointed to this role, Robinson served as Ford's chief human resources officer since April 2018. Prior to that, she was interim human resources leader, assuming the position in November 2017 after having served as executive director, human resources, global markets.

Robinson joined the automaker in 1995 as a labor relations representative in Ford of Australia and quickly rose through the ranks, serving in the first of several international assignments in 1997 with the Ford of Europe manufacturing organization. Following two additional positions in Australia, Robinson moved to Ford's headquarters in 2002 to hold a variety of roles of increasing responsibility, culminating in her appointment to vice president of human resources for Ford in Asia Pacific in 2010.

While leading the team in Asia Pacific, Robinson further distinguished herself by directing the development and deployment of a robust talent and people resource plan for the growing operation and by establishing Ford's brand as an employer of choice across the 16 markets in Asia.

In 2016, Robinson was appointed to lead human resources for The Americas, and in early 2017, her role was expanded to include global markets.

She lives in Michigan with her husband and two children.
LinkedIn